The 5 perks of owning overseas property
Global real estate is one of the largest asset classes in the world, with a total value of USD228 trillion.1 That's more than the total global value of shares, stocks and bonds – about USD170 trillion. Residential property makes up around three quarters of the value of global real estate. For some people, real estate is more than a roof over their heads. It's a potential future income generator; it's collateral; it's their legacy.
If you're thinking of investing in property, it might be worth looking farther afield for the best returns. Here are 5 possible perks of purchasing international real estate and questions to ask yourself to determine if this type of investment is the right choice for you.
Earn through rental income and property value appreciation
Rental income is passive income: money you earn from your investments without putting in a lot of effort. You can save your rental income or put it straight back into the property to pay off the mortgage.
It's usually easier renting out property if it's close to public transportation, good schools and in a safe neighbourhood. There is always a chance, though, that you could have to sell when the market is not in your favour. Some factors that can affect your rental income include property taxes, maintenance fees and insurance. And as with owning any home, there's the upkeep and unexpected expenses. Your property may also end up empty between tenants, so it's important to have a financial cushion for those times.
Ask yourself: Do I understand the local rental market and resale prospects for this property?
Diversify to protect your assets
An internationally diversified portfolio can be one of the biggest perks of buying overseas property. As a wise investor, you wouldn't put all your money in one bank account or investment. Why, then, would you stick with just one country when it comes to protecting your assets? Economic activity, geopolitical circumstances and interest rates can affect currencies and the value of your assets.

These fluctuations can create uncertainties, but also opportunities. Low exchange rates, for example, mean your money won't go as far on your overseas purchase but your rental income will be higher.
As asset allocators, we need to adapt to that change. The key to success in the 'age of uncertainty' will be to continue to be dynamic in how we build our asset allocation, and to expand our investment strategy across more geographies ... new asset classes ... and new styles.
Joe Little, HSBC Global Chief Strategist2
Ask yourself: How will the exchange rate and currency fluctuations affect my investment?
Offset with above board tax exemptions
You might be able to offset foreign income tax if you're paying tax overseas on your rental income or capital gains. What you pay will depend on your citizenship and where you're buying, as well as whether the property will be your primary residence or a rental property.
Belgium has the highest property transfer tax rates in the world, at 11.3% (the global average is 3.3%), followed by Spain and Pakistan. The effective tax rate in New Zealand is 0%.4 There are no other hidden obligatory payments on real estate purchases, either.
Tax implications for owning property overseas can be complicated so it's important to have a good international tax consultant.
Ask yourself: Will the local tax laws allow me to rent out my property when I'm not there?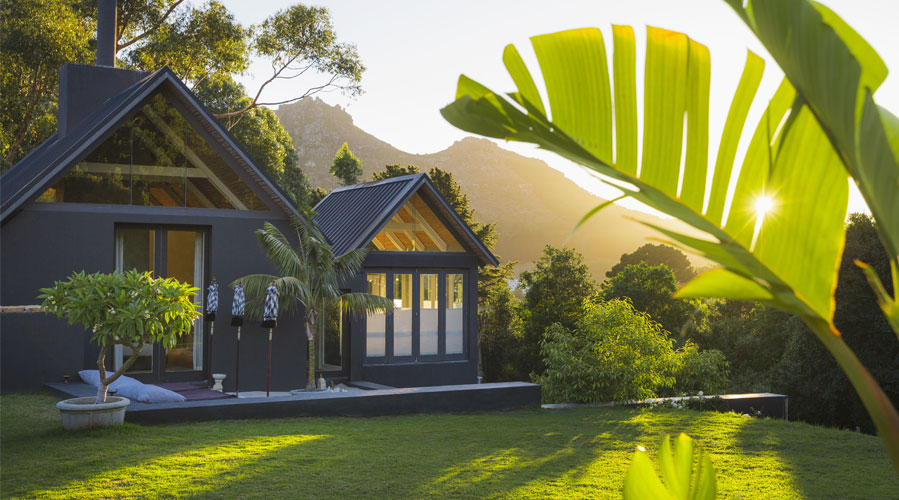 Secure an alternative residence
Owning a second home might not only be a good way to diversify your investments, but it also just might be your life's goal upon retirement. A strong local currency means you can have the house or holiday getaway of your dreams that you'd never be able to afford in your own country.

Parents with children studying abroad often consider buying property instead of renting. The most appealing overseas destinations for investors buying property are world-class cities with strong economic activity and top-ranking universities. This is because there's a higher chance that those properties can be rented out easily when not being used by the owners.1
Investing in more stable property abroad protects you from potential economical or political problems in your home country. It's nice to have options should you ever feel you'd like to start a new life somewhere else a little less complicated.
Ask yourself: Does this country or region offer adequate healthcare?
Acquire a second passport
Speaking of starting a new life, after you've been a resident for a certain amount of time, some countries make it possible for you to apply for citizenship and a passport through residency. This varies, but you'll probably have to invest 3 to 5 years in a country before this happens. And becoming a citizenship might mean more than just opening a bank account and buying a house. You may need to learn the local language or complete mandatory military service!
For example, you only need to have lived in Argentina continuously for just two years to become a citizen (but being called on for military service is a possibility here). Ireland, on the other hand, offers what's widely considered to be the best residency for citizenship programme: 5 years of legal residency and no military service for one of the best passports in the world (in one of the most beautiful countries, too). Other countries that offer citizenship for residency include Mexico, Dominican Republic and Portugal.3
Ask yourself: What are the visa restrictions for this country, and would I qualify for residency?
Ready to open an overseas account?
We can tell you the best way for you to apply for an overseas account. Simply select your current location and where you would like to open an account. We'll then walk you through the steps.
Still exploring your options to invest in overseas property?